NEWS & PRESS RELEASES

YTL's Starhill REIT acquires Sydney Harbour Marriott Hotel, Brisbane Marriott Hotel and Melbourne Marriott Hotel for AUD415 Million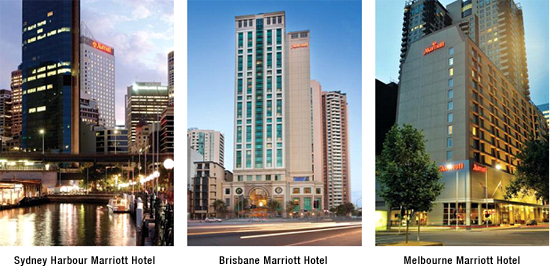 Kuala Lumpur, 13 June 2012

Starhill Real Estate Investment Trust ("Starhill REIT" or "Trust") is pleased to announce that it has, on 13 June 2012, entered into agreements to acquire the Sydney Harbour Mariott Hotel, Brisbane Marriott Hotel and Melbourne Hotel in Australia for a total purchase consideration of AUD415,000,000.

Starhill REIT entered into the agreements via its indirect wholly-owned subsidiaries and trusts to acquire the hotel properties and business assets of Sydney Harbour Marriott Hotel, Brisbane Marriott Hotel and Melbourne Marriott Hotel from the respective vendors of the hotels, namely Commonwealth Managed Investments Limited, 30 Pitt Street Pty Limited, 515 Queen Street Pty Limited and Lonex Pty Limited, for a total cash consideration of AUD415,000,000 (equivalent to RM1,310,570,000 based on the exchange rate of AUD1.00: RM3.158).

The purchase consideration was determined after taking into account the market values ascribed to the three Marriott hotels by the independent valuer, Colliers International Consultancy and Valuation Pty Limited. The purchase consideration will be satisfied in cash via bank borrowings and cash balances of Starhill REIT.

Tan Sri Dato' (Dr) Francis Yeoh Sock Ping, managing Director of YTL Corporation Berhad and Chief Executive Officer of Pintar Projek Sdn Bhd, the Manager of Starhill REIT, said, "The acquisition of this new portfolio of hospitality assets will, upon completion, enlarge the Trust's portfolio to approximately RM3.00 billion from RM1.58 billion currently. Thereafter, more than half of Starhill REIT's property value will be constituted by its hotel assets in Australia and Japan, making this the largest portfolio of overseas property investments of any Malaysian REIT.

"The acquisition represents a yield accretive opportunity for the Trust, generating two income streams, firstly, stable fixed lease rentals arising from its existing property portfolio and, secondly, variable income from the three Marriott hotels, increasing the potential for distribution per unit growth and variations.

"It will also allow Starhill REIT to participate in the vibrant real estate market in Australia and explore further geographical diversification of the Trust's asset base."

The Proposed Acquisition is subject to the relevant regulatory approvals and consents being obtained.

About Sydney Harbour Mariott Hotel, Brisbane Marriott Hotel and Melbourne Marriott Hotel

The Sydney Harbour Mariott Hotel, occupying a freehold site of 3,084 square meters, is located on Pitt Street in the heart of the Sydney Central Business District (CBD) and in close proximity to renown tourist attractions, including Circular Quay, The Rocks and the Sydney Opera House as well as the city's major office and retail precincts. It is a 33-level building with 563 guest rooms, and has a 5-star AAA tourism rating.

The Brisbane Mariott Hotel, occupying a freehold site of 1,532 square meters, is located on the northern end of the Brisbane CBD area, close to the Brisbane River and with a view of the Storey Bridge. It is a 28-level building with 267 guest rooms, and has a 5-star AAA tourism rating.

The Melbourne Marriott Hotel, occupying a freehold site of 1,636 square meters, is located in the eastern section of the Melbourne CBD on the corner of Exhibition and Lonsdale Streets. It is a 16-level building with 186 guest rooms, and has a 5-star AAA tourism rating.

The three Marriott hotels are operated by the Marriott International, Inc. group, a leading worldwide operator and franchisor of hotels.

About Starhill REIT

Starhill REIT's principal investment strategy is to invest in a diversified portfolio of income-producing hospitality real estate with the objective of providing unitholders with stable cash distributions with the potential for sustainable growth, principally from the ownership of properties, and to enhance long-term unit value.

Starhill REIT currently owns ten (10) prime hospitality related properties with a total 2,690 rooms and services residences units in Malaysia and Japan, namely the JW Marriott Hotel Kuala Lumpur, The Residences at the Ritz-Carlton, The Ritz-Carlton, Kuala Lumpur, the Pangkor Laut, Cameron Highlands and Tanjong Jara resorts, the Vistana chain of hotels in Kuala Lumpur, Penang and Kuantan and Hilton Niseko. As at 31 March 2012, the combined value of the Trust's property portfolio stands at RM1,577 million.

The Trust was established on 18 November 2005 and Starhill REIT was listed on the Main Market of Bursa Malaysia Securities Berhad on 16 December 2005.