NEWS & PRESS RELEASES

Starhill REIT to buy more 'iconic' properties, go global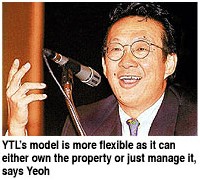 Business Times Malaysia

By Chong Pooi Koon

STARHILL Real Estate Investment Trust (REIT) will buy more "iconic" properties this year to grow the trust, but at the same time it is exporting the brand and expertise in managing luxurious malls to boost earnings, its major owner said.
"We are going global with Starhill Gallery now. Locally, any property that's iconic will be owned by Starhill REIT," said Tan Sri Francis Yeoh, managing director of YTL Corp Bhd.
Starhill REIT is managed by Pintar Project Sdn Bhd, a subsidiary of YTL Corp.
He said the group still has about RM2 billion to RM3 billion worth of "iconic" properties in the likes of Ritz-Carlton Residences that can be sold into the trust in future.
The group this week signed with Middle East property developer ETA Star Property Developers LLC to launch the Starhill Gallery concept in Dubai.
YTL is not investing capital in the project. Instead, it will earn from a RM5.2 million licensing fee, as well as an annual brand management fee under a 4 per cent gross profit-sharing arrangement of the new mall.
Yeoh said the group is now checking the regulatory guidelines here so that this stream of management income can flow into the trust.
"Asia is very brand-centric, more than many Western capitals. For us to develop this in Middle East and Asia, we are focusing on all the right areas," Yeoh told reporters after an annual meeting with Starhill REIT unitholders in Kuala Lumpur yesterday.
He said the Louis Vuitton store in Starhill Gallery here rakes in about US$4,500 (RM13,830) sales per sq ft a year, beating the most successful retail stores in the top area in New York.
Comparatively, he said the newly-opened Apple outlet on Fifth Avenue is making US$4,032 sales per sq ft per year, while Tiffany & Co is doing US$2,666.
"So we beat them today. Yet our rental in KL is only RM40 per sq ft and the sales have already beaten New York. In Hong Kong, the rental is RM600 per sq ft. So we can see the yield potential per unitholder would have," he added.
YTL is also evaluating requests to replicate the success model of Starhill Gallery in other major cities, including London, Shanghai, Moscow, Jakarta, Oman and Abu Dhabi.
"Getting yield without the expenses is awesome. If I can have 10 more similar projects that's incredible. That's what Four Seasons and Ritz Carlton are all about. They don't own the assets but just manage for a fee," Yeoh said.
Still, he said YTL's model is more flexible.
"We can either own the property or just manage it. In other cities, we can also take a stake in an existing mall and turn it into a Starhill," he said.
© Copyright 2006 The New Straits Times Press (M) Berhad. All rights reserved.