NEWS & PRESS RELEASES

Starhill REIT tops active stocks list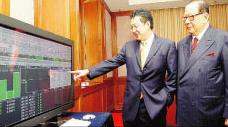 IT'S DOING WELL: Francis Yeoh pointing to the scren displaying Starhill REIT units' price trend. Looking on is YTL founder/executive chairman Tan Sri Yeoh Tiong Lay.

YTL Corp Bhd's Starhill Real Estate Investment Trust (Starhill REIT) was by far the most-actively traded issue on Bursa Malaysia yesterday, opening at an intra-day high of RM1.07 in its main board debut.
This represented a 6 per cent premium for institutional investors who paid RM1.01 for each unit, and an 11 per cent premium for retail investors who paid 96 sen a unit.
The units, however, faced strong selling pressure during the day as some investors tried to make a quick profit, dealers said, thus ending the day at RM1.03.
Some 97.9 million units were traded, representing about 40 per cent of the day's total trading volume.
"For retailers, who have not had very good experiences with initial public offerings (IPOs) of late, I think this is good cheer for all of them.
"It's a welcome buzz, a Christmas gift, I suppose, for all those who have invested," said managing director Tan Sri Francis Yeoh Sock Ping, commenting on the units' opening price.
Analysts have estimated the units' fair value at between RM1.04 and RM1.51 each.
The property trust comprises three of the city's top retail and property icons, namely Starhill and Lot 10 shopping complexes and JW Marriott Hotel, valued at RM1.15 billion collectively.
According to a research firm, the REIT's value may increase to RM2 billion if YTL Corp decides later to inject into it the Ritz Carlton Hotel and serviced apartments, which are currently being developed and owned by the main shareholders' private vehicle.
"Whether this enhances the REIT's dividend yields depends entirely on the rentals generated by these new assets," it said in a note to clients.
YTL Corp raised RM513 million from the IPO, which is Malaysia's largest property trust to be listed so far.

Malaysia Starhill REIT +7.3% in strong debut

Yahoo! News, December 16, 2005

KUALA LUMPUR (Dow Jones)--Starhill REIT (5109.KU) rose 7.3% from its retail initial public offer price in its debut on Malaysia's stock exchange Friday, amid strong demand for the country's first real estate investment trust, or REIT, to focus on malls.

Starhill, which is Malaysia's biggest real estate investment trust, ended at MYR1.03, compared with its retail IPO price of MYR0.96. A total 97.9 million units changed hands Friday, accounting for 31% of Bursa Malaysia's total volume.

The offering for the country's first mall REIT coincided with Malaysia's first interest rate increase in seven years, raising local investor concerns that the REIT's yields would fail to attract investors, analysts said.

Starhill has dismissed these concerns, noting the high foreign interest in the offer. The interest comes despite Malaysia's tax regulations on REITs being less transparent than those of countries such as Singapore. Malaysia taxes REIT income at the end-investor level, while Singapore doesn't.

Starhill - which pools Lot 10 and Starhill Gallery malls and the J.W. Marriott hotel - is Malaysia's second REIT created under new regulations for the instrument, which give the funds a more transparent tax structure and remove a property capital-gains tax.

REITs, financial instruments for investing in real estate, have won many supporters since their introduction in Asia, mainly due to their relatively high yields and steady income. Japan, Australia and Singapore are Asian market leaders for REITs.

Starhill's IPO was 8.8 times subscribed when it closed Dec. 1.

"At 8.8 times subscribed, and with foreign investors bidding for about two-thirds (of the initial offer), the REIT is well-supported," said a senior industry executive.

Some 94% of the IPO units were sold to institutional investors via book-building at MYR1.01 each.

Starhill, Malaysia's first REIT to be marketed overseas in over a decade, also sold units to individual investors at MYR0.96 each. In total, Starhill sold 49% of the REIT, or 509.6 million units, raising about MYR513.2 million.

The diversified YTL Corp. (4677.KU) conglomerate, headed by managing director Francis Yeoh, controls 51% of Starhill post-IPO. Pintar Projek Bhd., a 70%-owned YTL unit, will manage the REIT.

Starhill has committed to paying out 100% of its earnings in dividends in 2006 and 2007. At MYR1.03 a unit, the REIT will yield about 6.1%, significantly higher than 12-month term bank deposit rates of 3.7%.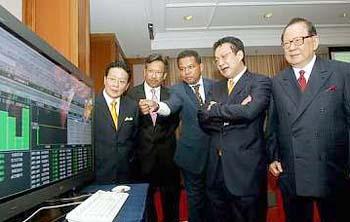 An official from Bursa Malaysia (centre) explaining Starhill REIT's price movement on an electronic board to (from left) YTL Corp deputy managing director Datuk Yeoh Seok Kian, Bursa head of listing Johan Abdullah, Tan Sri Francis Yeoh and YTL chairman Tan Sri Yeoh Tiong Lay

Starhill REIT debuts with 11 sen premium
The Star Online, December 17, 2005
YTL Corp Bhd's Starhill Real Estate Investment Trust (Starhill REIT) shone on its maiden day on Bursa Malaysia, boosted by strong demand for high dividend-yielding stocks.
The property trust – the country's largest to date valued at RM1.15bil – made its trading debut at RM1.07 yesterday, or 11 sen higher than what retail investors had paid during its initial public offer (IPO) last month. The counter was last traded at RM1.03 on volume of 97.9 million shares.
At the press conference after the listing ceremony in Kuala Lumpur yesterday, YTL Corp managing director Tan Sri Francis Yeoh said he regarded Starhill REIT's commendable performance as a Christmas gift to its shareholders.
"The listing had generated a lot of buzz, and we are happy with its performance,'' he said.
YTL Corp's 70% unit, Pintar Projek Sdn Bhd, will provide management services for the property trust. Post-listing, YTL Corp retains a 51% ownership in Starhill REIT.
"At the current price, Starhill REIT is yielding at above 6% and should continue to appeal to income-oriented investors,'' a fund manager said.
Institutional investors paid RM1.01 per unit and had accounted for 94% of the total 509.6 million shares offered under the property trust IPO completed exercise.
Starhill REIT was formed via the injection of two high-end shopping complexes and a five-star hotel owned by YTL Group located along the strategic Jalan Bukit Bintang in Kuala Lumpur.
Analysts said Starhill REIT is expected to pay out 100% of its profits as dividends over the next two years, as the three properties – Lot 10, Starhill Gallery and JW Marriot Hotel – would require little capital expenditure over the near term with the recent completion of renovation works prior to listing.
A local brokerage said the potential payout translates to a gross distribution per unit of 6.58 sen and 6.44 sen for financial years ending June 30, 2006 and 2007 respectively.