NEWS & PRESS RELEASES

Starhill REIT debuts with 11.5% premium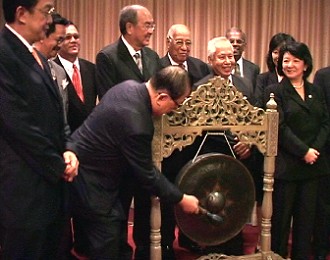 A celebratory strike on the gong to mark the listing of Starhill REIT.
KUALA LUMPUR, Starhill Real Estate Investment Trust (STAREIT - Stock Code: 5109) made a commendable debut on the Bursa Malaysia today, opening at RM1.07, which was 11 sen or 11.45% above its retail offer price of 96 sen.
At 9 o'clock this morning, YTL Corporation executive chairman Tan Sri Dato' Seri (Dr.) Yeoh Tiong Lay struck the gong at Bursa Malaysia to mark the debut of Malaysia's biggest-ever real estate investment trust on the Main Board of the exchange.

Also present at the listing ceremony were YTL Corporation managing director Tan Sri (Dr.) Francis Yeoh, Bursa Malaysia chief executive officer Yusli Mohamed Yusoff, as well as YTL board of directors, and Chairman of AmInvestment Group, Tan Sri Dato' Azman Hashim; chairman of ECM Libra Bhd Dato' Kalimullah Hassan and HSBC Bank Malaysia deputy chairman and chief executive officer Zarir J. Cama.

At the opening bell, there were 4.19 million units done. The counter remained active throughout the day despite a weak market. The share price closed at RM1.03 with 97.9 million shares bring traded, making it the most active stock for the day.

The initial public offering comprised a combined total of 509,599,000 units available under the retail and institutional offers. A total of 29,999,000 units were offered to the Malaysian Public under the retail offer (Retail Offer), whilst the remaining 479,600,000 units were made available to Malaysian and foreign investors under the institutional offer (Institutional Offer).

The subscription rate for the Retail Offer was 6.27 times, drawing over 22,800 applications from the public, seeking 218.2 million units.

Meanwhile, the final subscription rate for the Institutional Offer was around 8.8 times which was priced at RM1.01 per unit (Institutional Price), drawing demand in excess of 4,218 million units from domestic and international investors.

Chang Tou Chen, managing director and head of Southeast Asian corporate finance and advisory at HSBC's investment-banking arm; ECM Libra Group chief operating officer David Chua, and DBC Bank Debt Capital Markets managing director Eng Seat Moy who accompanied Tan Sri Francis Yeoh on the roadshow during the bookbuilding period were also present witness the ceremony.

The Joint Bookrunners for the offering were ECM Libra Securities Sdn Bhd, DBS Bank Ltd and the Hong Kong and Shanghai Banking Corporation Ltd with AmMerchant Bhd Group as the Senior Co-lead Manager. ECM Libra was also the lead financial adviser for this offering.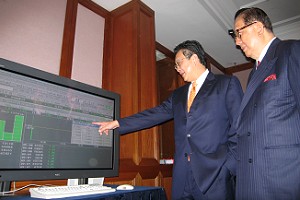 Tan Sri Francis Yeoh (left) and Tan Sri Yeoh Tiong Lay monitor the active trade.
Speech by Tan Sri Dato' (Dr) Francis Yeoh Sock Ping

It is my pleasure to welcome you to this listing ceremony for the Starhill Real Estate Investment Trust.

As Malaysia's first international REIT, this is a significant milestone. The REIT sector in this country is in its infancy but investors understand that the growth potential here is tremendous, and this was highly evident during our recent global roadshow for Starhill REIT.
Investors demonstrated overwhelming support for this groundbreaking transaction, and they did so at the top end of the pricing range, with demand from international investors outpacing domestic demand by factor of 2 to 1. As a result, our international investor list is a top tier list.

We marketed Starhill REIT to institutional investors at a price range of 93 cents to RM1.03, and priced the issue at RM1.01 to reward our investors. In addition, the final retail price was reduced by 2 cents to 96 cents, a 5% discount to the institutional price, as I wanted our investors, both domestic and international, to experience from Day One, our solemn intention to reward them for their support and confidence in us.

I must admit that the level of demand for units during the public offering exceeded all our expectations. The Retail Offering was covered more than 6 times, with coverage of the Institutional Offering standing at nearly 9 times the units available. This overwhelming support for Starhill REIT from both the Malaysian public and international institutional investors is a strong indicator that Malaysian investors are excited by Starhill REIT's growth potential and global investors have re-established their belief in the strength of this country's capital markets.

I hope the success of this transaction will attract more international investors to Malaysia and will encourage more REITs to list on Bursa Securities, to deepen the country's capital markets.

The growth potential for this sector is boundless, with the main draw of offering investors the opportunity to invest retail properties that would otherwise be inaccessible to them. Starhill REIT for example gives investors the ability to own a stake in the iconic Starhill Gallery, Lot 10 and the JW Marriott Hotel, all located in the heart of Kuala Lumpur's Golden Triangle.

Since acquiring these 3 properties in 1999, we have pursued a goal of redeveloping the area into one that could be a source of pride for the city and that tourists and locals alike would be drawn to visit. All the elements of this strategy, from hiring internationally-renowned architects to design an iconic landmark, to promoting duty-free retail and attracting top-quality tenants, are all elements that are particularly conducive to a creating successful REIT.

Our stated objectives for Starhill REIT are to provide our unit-holders with stable cash distributions with the potential for sustainable growth, and to enhance long-term unit value. This dedication to creating long-term value for our investors is a long-running theme for the YTL Group and is one that will be carried through to Starhill REIT, our 6th publicly listed vehicle on Bursa Securities.

Ladies and gentleman, it is our hope that the listing of Starhill REIT today will provide investors with added diversity in their investment options by adding a valuable new high-yield asset class to Bursa Securities. If Starhill REIT serves to raise awareness of the REIT vehicle in general and generate interest of domestic and international investors in Malaysia's capital markets, then we will be very pleased with this contribution.

Today's listing would not have been possible without the support of all the parties who worked with us. I wish to thank the regulatory authorities, Bursa Securities and the Securities Commission, for enabling us to bring Starhill REIT to the market. Having come through the rigorous regulatory process has only enhanced my view that the regulatory authorities in this country are doing their best to protect individual investors and the capital markets as a whole.

I must also thank our excellent team of advisers, ECM Libra, AmMerchant, DBS Bank and HSBC, for their unwavering support and intellectual integrity in acting for us. Most of all I want to thank our Lord Jesus for His blessings on this historic transaction.

Thank you once again for your presence here today and God bless all of you.

Speech by Tan Sri Dato' (Dr) Francis Yeoh Sock Ping at the Listing Ceremony for Starhill Real Estate Investment Trust at Bursa Malaysia Securities Berhad on Friday, 16 December 2005