NEWS & PRESS RELEASES

Investors rush for share of Starhill REIT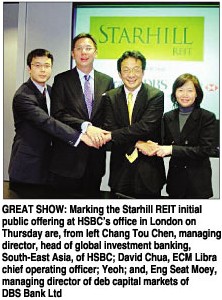 Business Times Malaysia

By ADELINE PAUL RAJ
LOCAL and foreign investors clamoured for a piece of YTL Corp Bhd's Starhill Real Estate Investment Trust (REIT), enabling the company to raise RM513.1 million from its initial public offering (IPO).

Institutions bought 479.6 million of the REIT units, asking for 8.8 times more than the number of shares they were offered via an international book-building exercise.

"Investors have demonstrated overwhelming support for this ground-breaking transaction, and they've done so at very top end of the pricing range," managing director Tan Sri Francis Yeoh Sock Ping told reporters from London.

The order books for Malaysia's biggest property trust so far, and the first to be sold internationally, closed on Thursday in London.

The units, which were marketed in a 93 sen to RM1.03 range, were, however, sold at RM1.01 apiece - 2 sen below what the institutions were willing to pay.

"I've decided to reward investors. I want our investors, both domestic and international, to experience from day one our solemn intention to reward (them)," Yeoh said in a conference call.

At RM1.01 each, the shares have an indicative yield of 6.24 per cent for the 2006 fiscal year, and 6.56 per cent for 2007.

Retail investors, meanwhile, bought 29.9 million units at 96 sen each, which is a 5 per cent discount to the institutional price.

The retail offer was oversubscribed by 6.27 times.

Starhill REIT offered 509.6 million new units under its IPO, which account for 49 per cent of its total units.

The property trust comprises three of Kuala Lumpur's top retail and property icons, namely the Starhill and Lot 10 shopping complexes and JW Marriott Hotel, valued at RM1.15 billion collectively.

REITs - companies or funds that own real estate assets and pay almost all their income as dividends - are fast becoming popular in Malaysia and in the region.

Yeoh was pleased with foreign investor response to the REIT as they took up 65 per cent of the institutional tranche.

"International investors have voted with their pockets, outpacing domestic demand by two to one," he remarked.

Yeoh acknowledged, however, that demand might have been "substantially" higher if not for the 28 per cent withholding tax that Malaysia imposes on foreign investors.

However, he is confident that the Government will, on the success of this REIT, find ways to make Malaysia more competitive by either removing or setting its withholding tax on par with that of Singapore's.

Yeoh also noted that response to the Starhill REIT was "overwhelming", demonstrating that demand was not dampened by an interest rate increase in Malaysia this week.

"We managed to convince REIT holders of the quality of these Starhill assets, of how it's not sensitive to interest rates and of the growth potential of this REIT," he said.

Units of the REIT are expected to start trading on the main board of Bursa Malaysia Bhd on December 16. It will be the country's second listed REIT following that of Axis REIT Managers Bhd, which raised about RM123 million in August.

ECM Libra, DBS Bank Ltd and the Hong Kong and Shanghai Banking Ltd are the joint book-runners for this offering, with AmMerchant Bhd Group as the senior co-lead manager.
--------------------------------------------------------------------------------
© Copyright 2005 The New Straits Times Press (M) Berhad. All rights reserved.