NEWS & PRESS RELEASES

Starhill REIT offers great opportunities for discerning investors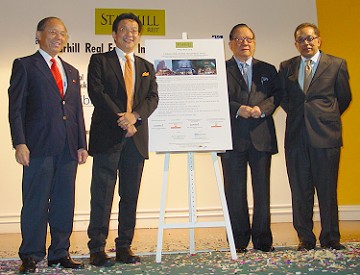 From left: Tan Sri Azman Hashim, Tan Sri Francis Yeoh, Tan Sri Yeoh Tiong Lay and Dato' Kalimullah Hassan after unveiling the prospectus.
Kuala Lumpur, The proposed listing of Starhill Real Estate Investment Trust (REIT) on the Main Board of Bursa Securities marks the next milestone for the YTL Group. Sponsored by YTL Group, one of Malaysia's most successful and renowned conglomerates, and driven by an experienced and respected management team, Starhill REIT offers investors, both institutional and retail, an opportunity to "own" these exclusive and high quality properties which are otherwise not within reach.
This information was shared during the launch of the prospectus and press conference held in conjunction with the initial public offering of Starhill REIT at the Carlton Conference Centre today. Chairman of AmInvestment Group, Tan Sri Dato' Azman Hashim; CEO of Projek Pintar and YTL Corporation managing director, Tan Sri Dato' (Dr) Francis Yeoh; YTL Corporation executive chairman Tan Sri Dato Seri (Dr) Yeoh Tiong Lay; and chairman of ECM Libra Bhd Dato' Kalimullah Hassan unveiled the prospectus to a hall of analysts, investors and the media.

Starhill REIT boasts an asset portfolio of leading retail and hotel properties in Kuala Lumpur, namely Starhill Gallery, JW Marriott and Lot 10, all strategically located in the heart of Kuala Lumpur's Central Business District and enjoying a busy flow of daily human traffic. In fact, Bintang Walk is probably the most attractive shopping and tourist destination in town which encompasses a lifestyle shopping concept with alfresco dining along the Jalan Bukit Bintang walkway, YTL's brainchild.

The proposed listing of Starhill REIT entails a public offering of 509,599,000 Units, out of which 29,999,000 Units will be offered to Malaysian retail investors and the remaining 479,600,000 Units to institutional investors. The Joint Bookrunners for this offering are ECM Libra Securities Sdn Bhd, DBS Bank Ltd and the Hong Kong and Shanghai Banking Corporation Ltd with AmMerchant Bhd Group as the Senior Co-lead Manager. ECM Libra is also the lead financial adviser for this offering.

This offering will also be brought to overseas institutional investors via roadshows which have been planned for Singapore, Hong Kong, The Netherlands and United Kingdom throughout the bookbuilding period from now till 1 December 2005.
About Starhill REIT

Starhill Real Estate Investment Trust (Starhill REIT) is a collective investment scheme constituted as a real estate investment trust and authorised under the REIT Guidelines.

Pintar Projek Sdn Bhd, a subsidiary of YTL Land Sdn Bhd, is the manager of Starhill REIT with Azmi & Co Building Services Sdn Bhd as the property manager while Mayban Trustees Bhd acts as the trustee.

The properties portfolio includes:
Lot 10 Shopping Centre which is located at the intersection of Jalan Sultan Ismail and Jalan Bukit Bintang. It is nestled within the area popularly known as "Bintang Walk";
The newly renovated Starhill Gallery is now the epitome of expression of taste and style in food, fashion, living, beauty and art in Kuala Lumpur. Renovation works were designed by internationally renowned architect, David Rockwell of New York. Tenants in Starhill Gallery include world-renowned Louis Vuitton, Christian Dior and Fendi and also houses Jaeger-Le Coultre, the largest stand alone watch boutique in the world. This re-branding exercise will place Starhill Gallery amongst the best-of-the-best malls in the South-East Asia region; and
JW Marriott a 5-Star hotel with 561 guests rooms including 70 suites is the third property. It adjoins Starhill Gallery via a sky bridge.
About YTL Group
YTL Corporation Berhad is one of the largest companies listed on the Kuala Lumpur Stock Exchange, and together with its four listed subsidiaries has a combined Market
Capitalisation of almost RM21 billion (US$5.6 billion). The company was listed in 1985, has also had a secondary listing on the Tokyo Stock Exchange since 1996. YTL was the first Asian non-Japanese company to be listed on the Tokyo Stock Exchange.
YTL Corporation Berhad is one of Malaysia's leading integrated infrastructure conglomerates. It owns and manages regulated assets with long term concessions globally. It currently serves over 10 million customers. The key businesses are as follows
Utilities
High Speed Rail
Cement Manufacturing
Construction Contracting
Property Development
Hotels and Resorts
Technology Incubation
YTL Corporation's strategy of providing "World Class Products and services at very competitive prices" has also resulted in it and its subsidiaries accumulating numerous International Awards in the process.
About ECM Libra
ECM Libra is a premier boutique investment advisory group with a regional presence and offices in Malaysia, Labuan, and Hong Kong providing corporations and high net worth individuals with a diversified range of financial products and services. The Group's activities are conducted through four principal business divisions - Investment Banking, Equities, Private Client Services and Principal Finance & Investments. Additional information may be found at www.ecmlibra.com.
About AmInvestment Group
AmInvestment Group has been in the forefront of the Malaysian financial services industry, having been in operations in the last 30 years, and is focused on delivering innovative products into the market and customers alike.
Among its recent accolades and achievements, the AmInvesment Group won the 'Best Malaysian Bond House' award in 2005 by FinanceAsia and the 'AsiaMoney Best Domestic Bond House' in 2005. In the latest RAM League Awards 2005, it won the 'Top Lead Manager for Corporate Sukuk Market', and was number one for Islamic papers in terms of number of issues and number of deals. AmInvestment Group is also the largest sukuk or Islamic bond issuer in the world for 2004 according to the Islamic Finance Information Service.
Related article:
YTL launches prospectus for Starhill REIT