NEWS & PRESS RELEASES

YTL to sell shares in Starhill REIT in Oct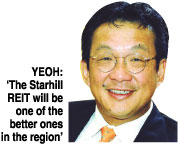 YTL Corp, the country's biggest builder, plans to sell shares in its Starhill Real Estate Investment Trust (REIT) in October, aiming to take advantage of a relaxation in rules for property trusts in the country.

The company plans to make presentations to investors in September and list the REIT one month later, its managing director Tan Sri Francis Yeoh said.

YTL is selling its JW Marriott, Starhill Shopping Centre and part of Lot 10 Shopping Centre in Kuala Lumpur's main shopping belt to the REIT for RM1.2 billion, the company said earlier.

"As far as reliability of rentals and dividend is concerned, the Starhill REIT will be one of the better REITs in the region, Yeoh said in an interview on July 20.

Interest in setting up REITs has surged after the Government announced measures to spur investment in REITs in September.

The Securities Commission (SC) has approved as many as four trusts to be listed this year, and as many as five, valued at RM2 billion, may start trading next year, said Kris Azman Abdullah, director of issues and investment at the SC.

Malaysia-based REITs don't pay tax on gains from selling properties and income tax will be at the investor level rather than REIT level.

REITs can also buy assets with leases of less than 60 years, which was previously not allowed.

YTL shares have gained 14 per cent this year, outperforming the Kuala Lumpur Composite Index's 3.4 per cent gain.

The assets that YTL is injecting into the REIT are of very good quality and are prime, grade-A buildings right in the heart of the shopping district of Kuala Lumpur," said Gan Kim Khoon, head of research at AmSecurities Sdn Bhd.

"It should do well," he added.

Starhill REIT will have a fund size of 1.04 billion units and offer a yield of 6.19 per cent, YTL said on July 7.

The trust may raise more than RM500 million, Yeoh said in May.

YTL, which will own 51 per cent of the trust, has sought regulatory approval to set up the REIT and list it on Bursa Malaysia Bhd.

The 24-storey JW Marriott generates RM1.71 million of rental a month and has an average occupancy rate of 75 per cent.

Starhill, with 280,385 sq ft of rentable retail space, is fully occupied and generated rental income of RM21.6 million in the year ended June 2004, YTL said.

YTL is also selling 430,384 sq ft of retail and other space it owns in the Lot 10 Shopping Centre to Starhill REIT.

The property generated RM21.2 million in rental income in the year ended June 2004 and is 98 per cent occupied.

"All the REITs in Malaysia will do very well because it's a new asset class for many investors and yields can be quite attractive relative to the returns you get from other types of cash assets or fixed deposits and money market deposits," said Gan.

"Still, for the REIT to be really successful they need to be acquiring more assets going forward," he added.

In March, Axis-REIT Managers Bhd, with office and industrial property valued at RM300 million, was allowed to make an initial public offering.

Landmarks Bhd, a local property and hotel group, said last month it will form a REIT and sell its shares to the public, selected investors, or both. — Bloomberg
--------------------------------------------------------------------------------
© Copyright 2005 The New Straits Times Press (M) Berhad. All rights reserved.